Here you will find the most important downloads on various topics, such as instructions for our products, publications or brochures.

Instructions for targeted frequency therapy
(13th version – German)
Download manual
This manual is only for therapists and patients instructed in targeted frequency therapy!
Together with the Steramedig® Chipcards, we offer you a free and downloadable PDF manual for targeted frequency therapy. This is the 13th revised edition from 2022.
It contains extensive informations on targeted frequency therapy with electrical frequencies on programmed Steramedig® Chipcards.
Among other things, more than 100 available chipcards from Steramedig® are described. This allows at the same time an overview of all our therapies.
Thanks to Smart Links in the PDF version, it is possible to navigate with a single click from the table of contents directly to the list of pathogens.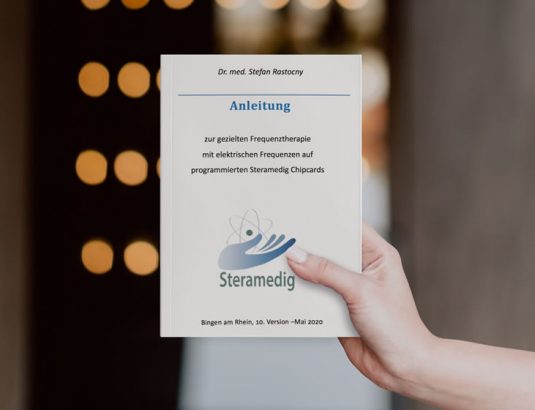 Note for printing
The version is created in A5 format. If you want to print the 120 pages, or parts of them, on Din-A4, then choose in your print menu to make appropriate adjustments (e.g. click 'Customize') so that the pages can be printed enlarged to Din-A4 or Letter format.
Reference to our products
No promises of healing are made when using any of the products of Steramedig GmbH. The statements made here on targeted frequency therapy, as well as the associated products are based on alternative medical knowledge that is not recognized by so-called conventional medicine. The statements made about indications and effectiveness as well as applications of the products listed here do not replace treatment by a doctor, therapist or non-medical practitioner. This also applies to angle rod tensors or electrosmog erasers. The user is responsible for the use and the choice of the correct application.