Steramedig, your personal consultant for targeted frequency therapy!
Targeted frequency therapy is an innovative form of treatment in which germs are destroyed by resonance.
On our website you will find extensive information about the procedure, individual products for safe use, as well as our holistic course offering for the practice of targeted frequency therapy.
Steramedig offers you an alternative way to find solutions to health problems. The health, safety and trust of our users and customers are always our top priority.
We are looking forward to accompany you on your personal way and to support you with words and deeds.
Your Steramedig Team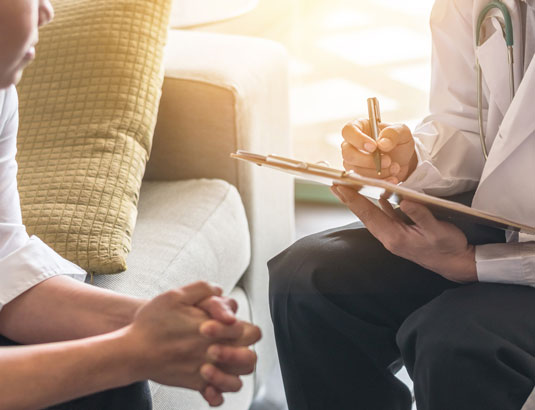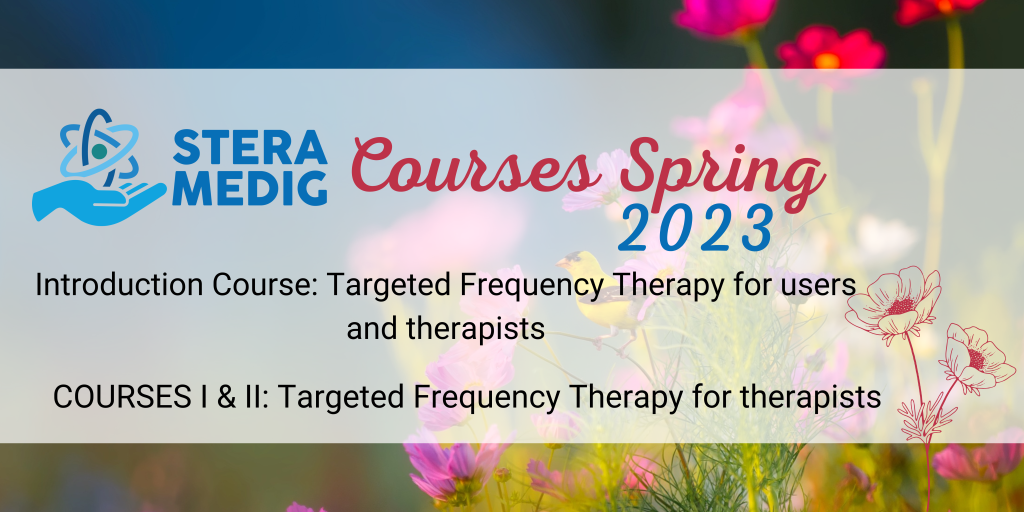 * New course dates 2023 *
From now on you can register for the new courses
"Introduction to Targeted Frequency Therapy",
as well as
"Targeted Frequency Therapy for Therapists Course 1 & 2".
You can find more info and bookings on the following link:
Lebensfreude Mitmachmesse (participation fair)         October  14th & 15th 2023
Frankfurt a.M., Germany

 Lebensfreude Mitmachmesse (participation fair)
November 26th & 27th 2022
Frankfurt a.M., Germany
Steramedig GmbH at Lebensfreude Mitmachmesse Frankfurt 2022
This year's Lebensfreude Mitmachmesse in Frankfurt am Main was a complete success for us. A special highlight was the wheel of fortune, where the prices to win were EAV tests, crisp apples, bags, MeineBase and Wurzelkraft from Jenschura.
We had lovely conversations during tea tastings and the presentation of our product range, performed electrosmog discharges at the booth, gave lectures on targeted frequency therapy and our therapists had a full schedule with the EAV tests.
We would like to thank the numerous visitors and customers who stopped by, for the friendly co-exhibitors and also for the organization of the Lebensfreudemesse, which made a pleasant participation possible for us.
See you soon – in spring 2023 in Hamburg!
 Symbio Harmonizer Congress 2022
 September 17th & 18th 2022
Imlauer Hotel Pitter Salzburg, Austria
We had an exciting weekend at this year's Symbio Harmonizer Congress 2022. Thank you very much to the organizers for the hospitality and the successful exchange on site. Enclosed are some impressions of the weekend, as well as the subsequent introductory course:
Steramedig GmbH at Symbio Harmonizer Congress 2022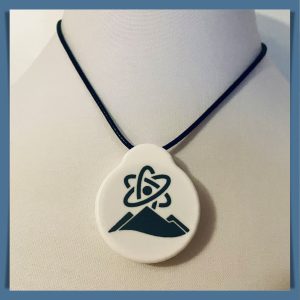 New: The Mini Electrosmog-Eraser from Steramedig®
Practical and always with you: the drop-shaped pendant of 4cm diameter and 8mm thickness made of plastic, as a constant companion. He works within a radius of about 2.5m (depending on the environment even more) can also be used against 5G radiation. Supplied with a black necklace and a USB charging cable.
Another feature is that you can use it if necessary, against radar radiation.
Electrosmog Eraser from Steramedig®
Safe protection for your own home.
With the Electrosmog Eraser from Steramedig® you protect yourself and all biological organisms (humans, animals, plants) within a radius of 30 meters from harmful radiation from electrosmog, radiation from televisions, monitors and computers, mobile phone radiation (2G, 4G, 5G), W-Lan, Bluetooth & wireless networks, smart home, water veins and earth radiation.
The device is available as a plug, your own device reception is not limited.

Zapper BW77 + BW2021 inclusive 2021 Upgrade
The programming zapper BW77, a frequency generator for playing and programming individual chip cards, and the therapy zapper BW2021 is now supplied with the new upgrade. In contrast to the predecessor, there is the possibility to set the voltage now up to 20V, instead of only to 15V. Other features include the fact that the two devices can now read cards of both BW and VM encoding, and a program installed on the device called Galvanostrom, which generates a constant direct current.
More info can be found here:
Current 15th version in German –
"Instructions for targeted frequency therapy"
Our revised edition of 2022 in German is available for download.
Accompanying the Steramedig chip cards, we offer a free manual for download. This is only intended for therapists and patients who have been instructed in targeted frequency therapy!
It contains extensive information on targeted frequency therapy with electrical frequencies on programmed Steramedig chip cards.
Updates: Described are over 100 chipcards available from Steramedig – including all new releases. This simultaneously provides an organized overall view of all therapies.
Thanks to Smart Links of the PDF version, it is possible to navigate back and forth from the table of contents directly to the list of pathogens with a single click.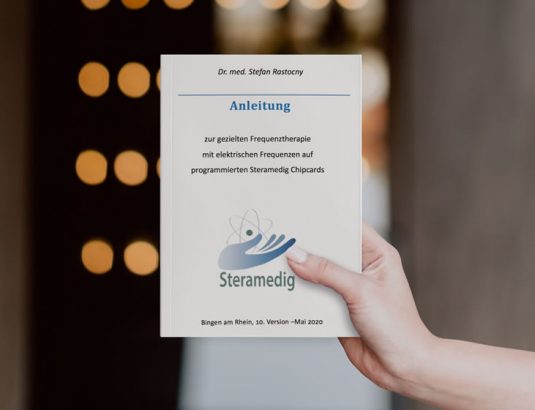 Newsletter
Sign up for our newsletter to stay informed about the latest Steramedig course dates, offers and news.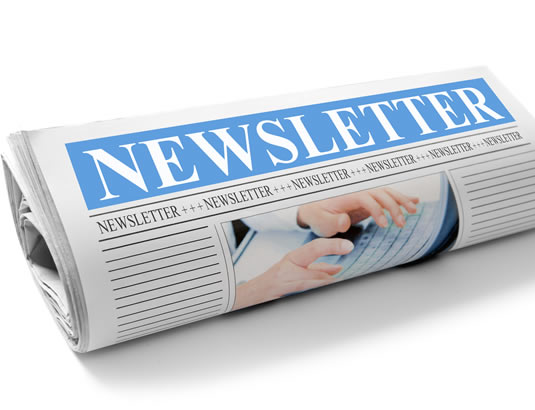 Reference to our products
No promises of healing are made when using any of the products of Steramedig GmbH. The statements made here on targeted frequency therapy, as well as the associated products are based on alternative medical knowledge that is not recognized by so-called conventional medicine. The statements made about indications and effectiveness as well as applications of the products listed here do not replace treatment by a doctor, therapist or non-medical practitioner. This also applies to angle rod tensors or electrosmog erasers. The user is responsible for the use and the choice of the correct application.